As an Amazon Associate I earn from qualifying purchases.
The other day I ran across a recipe while scanning Pinterest (if I had a dollar for every time I've said that). It involved making "brookies" or brownie cookies, with from scratch cookie dough and brownie batter. This got me thinking, "I wonder if I can simplify this, because I don't have time to make homemade doughs and batters." And so, easy 3 ingredient mix brookies were born.
This recipe involves some of the best flavors in the world, all combined into an easy to make dessert that will have everyone talking. Layers of cookie, peanut butter cups and chocolate brownie are baked together to form an amazing confection that won't be around long (because they will get eaten.
For this recipe, I used refrigerated cookie dough, chocolate peanut butter cups and boxed brownie mix. All three, when combined, baked for around 45 minutes. Then I topped them with vanilla ice cream, because ice cream.
If you're looking for some history on some of your favorite desserts, read on. If you're just after the recipe, hit the jump to recipe button. You're welcome either way.
If you'd like to find some of my other recipes, here they are.
The One Dollar Recipe
Chocolate chip cookies were invented by Ruth Wakefield in 1938. While running the Toll House Inn Restaurant in Massachusetts with her husband, she came up with a recipe for a cookie that was the perfect companion to ice cream. She then reportedly sold the recipe to Nestle in 1939 for one dollar.
Yes, you read that right. It's also reported that she never actually received that dollar. However, rumor has it she did get free chocolate for life and was hired as a consultant by Nestle.
A Fair, A Ferris Wheel and a Fudge-less Delicacy
In 1893, Chicago hosted the Chicago World's Fair. This fair is famous for a multitude of reasons. It was the first fair to have electricity. It was the fair that first showcased the ferris wheel. Lastly, Bertha Palmer commissioned chefs in her husband's hotel, The Palmer House Hotel, to make a "cake like confection" to be included in boxed lunches for ladies attending the fair. This dessert, interestingly, did not contain any chocolate. It was a dessert that featured walnuts and an apricot glaze.
The restaurant continued to serve the dessert well after the fair ended, and continues to serve it today. However, the "brownie" was officially coined by Fannie Farmer in the "Boston Cooking School Cookbook," but referred to a recipe using molasses and not chocolate. The chocolate brownie was first showcased in 1904 in the "Home Cookery" cookbook.
A Dairy Farmer Does It Big
In the 1900s, H.B. Reese was a dairy farmer in Hershey, Pennsylvania. In his spare time, he would make candy in his basement. He developed his most famous candy, a chocolate cup with peanut butter inside, in 1928 and it was called a "penny cup" because it only cost a penny to get one.
In 1963, H.B.'s sons merged the H.B. Reese Candy Company with the Hershey Chocolate Corporation, and in 1969, the Reese's Peanut Butter Cup became Hershey's top selling candy.
As an interesting side note, it was also the top candy in 2019.
Now Let's Talk About Brownie Cookies
The most important thing to keep in mind with brownie cookies is too not cook them too long. Only cook them until the brownie batter is done, You can test this with a toothpick or knife. Just insert it into the center of the brownie and push it in far enough to get to the bottom of that layer.
Cookies typically take less time to cook than brownies, so if the brownie is done, the cookie will be too.
Yield: 12 Cookies
3 Ingredient Brookies (Brownie Cookies)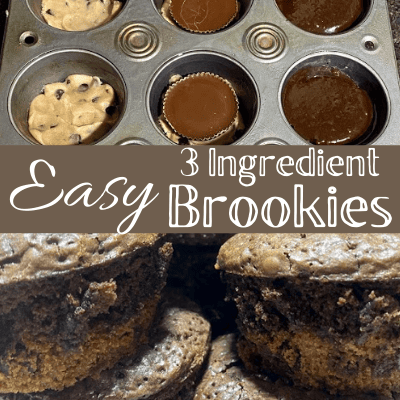 These easy 3 ingredient brookies (brownie cookies) take about 45 minutes to make and are absolutely divine (especially when paired with ice cream).
Ingredients
1 package refrigerated cookie dough (I get the pre-divided kind)
1 box brownie mix, along with ingredients listed on box
12 chocolate peanut butter cups
Instructions
Preheat oven to 350 degrees F. Spray a muffin tin with nonstick spray.
Press a ball of cookie dough into the bottom of each tin. I use enough to cover the bottom 1/3 of tin.
Place a chocolate peanut butter cup in each tin.
Make brownie batter according to package directions. Spoon batter into each tin, filling until approximately 3/4 full.
Bake 35-45 minutes, until toothpick inserted into brownie comes out clean.
Let cool slightly and enjoy with vanilla ice cream (or heat for 15 seconds in microwave).
Things I Used To Make This Brownie Cookie Recipe