As an Amazon Associate I earn from qualifying purchases.
Are you looking for something to do with some cooked chicken? Try this recipe for the best chicken salad ever. It is creamy and flavor-filled with just the right amount of crunch.
I have never been a big fan of chicken salad.  I won't say I don't like it. It's more like I have never thought, "You know what would be good? Chicken salad."
I actually stumbled into this recipe because I needed to use some chicken, but I am so glad I did. This colorful chicken salad is creamy and flavorful with just enough crunch. My family ate it in 2 days.
Chicken salad is good for lots of events, from family dinners to work parties to barbeques. Just make sure if you are having a large gathering to at least double the recipe. You and your family/party goers will be sad if you don't.
How long can you store chicken salad?
Chicken salad can be refrigerated in an airtight container for about 4 days. I recommend eating it all the first day. Truthfully, it's so good you probably won't have any leftovers.
Any time longer than 4 days and you run the risk of the crunchy bits getting soggy, among other risks. I just wouldn't recommend it after 4 days.
That does not count if it's been left out and has become one with the temperature of the outside. If that is the case, throw it away immediately.
Can I freeze chicken salad
No, I wouldn't recommend it. Mayonnaise is an emulsion (a mixture of 2 or more liquids that usually don't mix) and will likely seperate during the thawing process.
Freezing mayonnaise can also cause the ingredients to break down.
Lastly, most chicken salads have additional ingredients in them like boiled eggs, fruits and celery that don't freeze well.
What kind of chicken should I use?
Any of them!!!! I used baked chicken, but people also use rotisserie or grilled chicken. There's also canned chicken (which is apparently a thing?) if you're in a time crunch.
What kinds of add ins can you add?
The sky is the limit.
Other than the ingredients in my recipe, you can try
Almond slices
Grapes, apples, pears
Boiled eggs
Bacon
Cherry tomatoes
All in all, chicken salad is the meal you need. It's easy, versatile and delicious when done correctly. Better yet, you can eat it on celery, on bread or all by itself.
Chicken Salad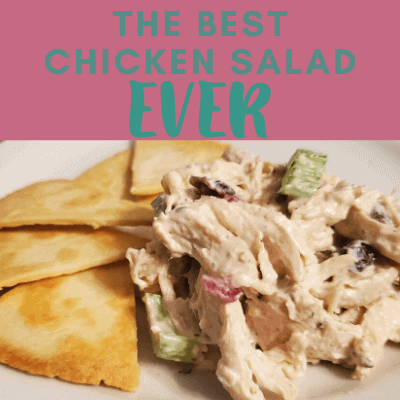 This amazing chicken salad is creamy and full of flavor with just the right amount of crunch.
Ingredients
4 cups cooked and shredded chicken
2 celery stalks, sliced
1/2 C dried cranberries
3 green onions, white and green parts thinly sliced
Tbs dijon mustard
1/2 C mayonaisse or plain greek yogurt
1 Tbs lemon juice
2 Tbs dill
1 Tbs parsley
Salt and pepper to taste
Add-ins to your liking
Instructions
Mix all ingredients together abd eat. Store in the fridge for up to 4 days.
Things i used for this recipe