As an Amazon Associate I earn from qualifying purchases.
I am so excited to get back to baking. I haven't had an oven in 3 about 3 weeks (long story that started with a broken heating element and ended with Home Depot breaking my original replacement oven). So healthy-ish box cake mix marble brownies sounded easy and delicious.
I couldn't wait to start baking again, but I am low on pretty much everything since we are going to Florida and I don't want to go to the grocery store before we leave.
We did, however, have an abundance of boxed cake mix (as one does), so I decided to whip up a batch of brownies. I know that my family is never happy with a simple 8×8 pan of brownies, so I started looking for a way to increase the amount.
I ended up mixing prepared dark chocolate and yellow box cake batter in a 9×13 pan and MAN am I glad I did.
These brownies are healthy-ish simply because they don't use a huge amount of vegetable oil. Instead, I used half oil, half applesauce.
How To Use Applesauce Instead of Oil When Baking
Subbing applesauce for oil is really easy. You simply cut the amount of oil in a recipe in half and swap it for applesauce. For example, if a recipe calls for a cup of oil, you would use a half a cup of oil and a half a cup of applesauce.
If this turns out to your liking, you can try adding more applesauce the next time (say ¼ cup oil and ¾ cup applesauce if using the example above).
Sweetened vs Unsweetened Applesauce
I have read sources that say you should use unsweetened to cut down on the "sweetness", but I have used both and never have I ever found it too sweet.
My sweet tooth is pretty unfazeable, though, so try at your own risk.
Why You Should Substitute Applesauce For Oil
If you swap out a ½ cup of oil for applesauce in the example we have been using, you could save as much as 900 calories and 110 grams of fat. That's a pretty sweet compromise, in my humble opinion.
Does it change the flavor?
As previously mentioned, using applesauce (especially the sweet variety), could make your end product sweeter. You can easily remedy this by using less sugar in your recipe. In the box cake mix marble brownies, I didn't have the option to add less sugar, but they came out delicious anyways.
Does it change the texture?
The purpose of oil or shortening in baking is to coat the flour and prevent it from absorbing water. Since you don't have as much oil, your may actually be more moist (such a gross word in all other contexts except baking).
In my box cake mix marble brownies, for example, I baked them for almost 45 minutes and the middle was still JUST cooked (read that as I had to eat it with a fork instead of my fingers). To remedy this, you should play with the amount of fluid you are to the recipe (water or milk). I couldn't do that, as my recipe called for neither, so I winged it.
Can you substitute the entire amount of oil for applesauce?
I highly recommended not doing this. It is recommended that you have at least 2 tablespoons for fat (oil, shortening or butter) per cup of flour in baked goods. Anything over than could potentially be subbed, as long as you watch your sugar and fluid content.
Anyways, these box cake mix marble brownies were delicious and my family and my neighbors enjoyed them immensely.
If you are looking for other new things to do with cake mix, check out this unbelievably easy banana bread recipe.
Products I recommend For This Recipe
Yield: 12 brownies
Box Cake Mix Marble Brownies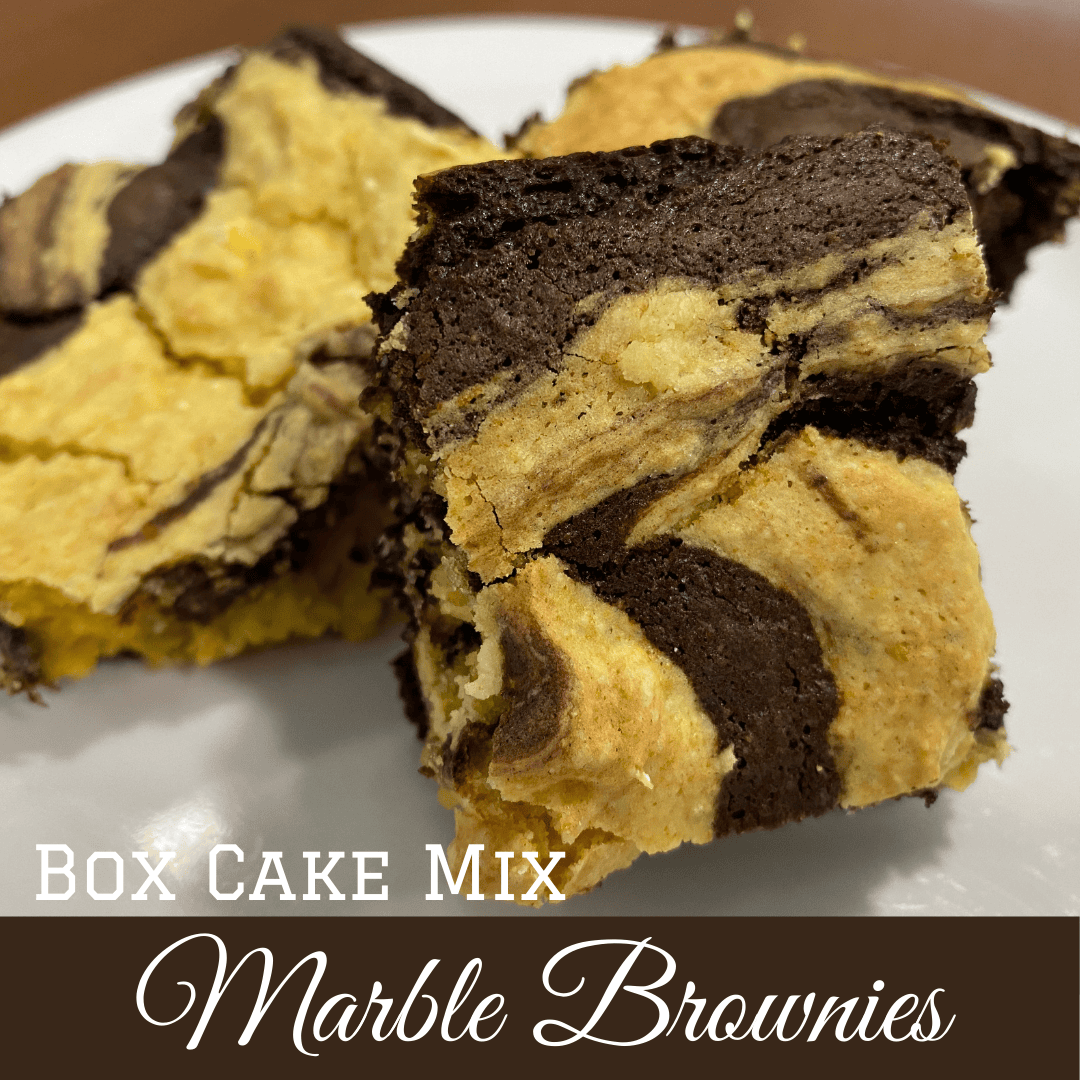 These easy to make box cake marble brownies are so good, you might eat the whole pan in one sitting. Don't worry, I don't judge.
Ingredients
1 15oz box yellow cake mix
1 15oz box dark chocolate cake mix
1/2C vegetable oil, divided
1/2C applesauce, divided, sweetened on unsweetened depending on preference
4 eggs
Instructions
Preheat oven to 350 degrees F and grease a 9x13 pan.
In bowl one, add yellow cake mix, 1/4C vegetable oil, 1/4C applesauce and 2 eggs/ Mix until just combined.
In bowl two, repeat with dark chocolate cake mix.
Using a large spoon, spoon yellow and chocolate batters into pan, alternating between yellow and chocolate cake mixes.
Use a knife to "swirl" the batters, creating a marbled effect.
Bake brownies for 25-40 minutes, until toothpick inserted into center comes out clean.
Enjoy. (Even as lunch, like I have done the past two days.)