As an Amazon Associate I earn from qualifying purchases.
Have you ever followed the recipe on the back of the cake mix box?? Like followed it perfectly, added every ingredient, and NEVER, EVER added anything that wasn't supposed to be there? I have. But now I am here to explain some easy hacks to make boxed cake taste like bakery cake.
There are a few things I do that make my generic box cake taste like it's fresh from the bakery. Those things are:
Butter
Milk
Eggs
Sour Cream
Pudding
Room temperature ingredients
But first, let's address a very important question…..
What is the best brand of cake mix?
Truthfully, I have never found a difference between any of the major cake mix players. Duncan Hines and Betty Crocker both make stellar cakes, and additions like the ones in this post can be added to any of them, as well as generic, store brand mixes.
Simply put, you can make any box cake taste like it's from the bakery.
Regardless of which box cake mix you use, there are some simple things you can do to bring out the bakery flavor of your boxed cake mix.
(Just as an FYI: This post may contain affiliate links. This means if you make a purchase from one of them, I get a commission. No extra cost to you. Read more about that here.)
1. Butter is better.
Instead of oil, I used unsalted butter. I have also used salted. Either one will work and produce the same result. I have quite literally never seen a difference between them. I do know that salt supposedly helps cut downthe sweetness is bakery recipes, but 1) why though? and 2) I've never noticed it.
You will substitute in equal amounts, too, so if the recipe says 1/2 C oil, you'll use 1/2 C of butter.
You may be asking yourself why you would change from oil to butter. Well, how much better does it taste than vegetable oil? Exactly. Butter gives cake a moistness and flavor that oil just can't add.
2. Milk does a body good, in this instance anyways.
Instead of 1C of water, I use 1C of milk. One of the liquid's jobs in cake baking is to get the batter wet enough for the chemical reactions to take place. While milk adds no noticeable difference in the end product and does nothing to aid the reactions, I just like milk more than water.
What about whole vs Skim milk?
Whole milk, as you probably know, has a bigger fat content than skim or 1-2%. In baking terms, this means that the end product may be more moist if using full fat milk.
I always use 1% milk, because it's what I have on hand. I have never had a problem with my cakes being dry if I add the right ingredients and monitor my baking times.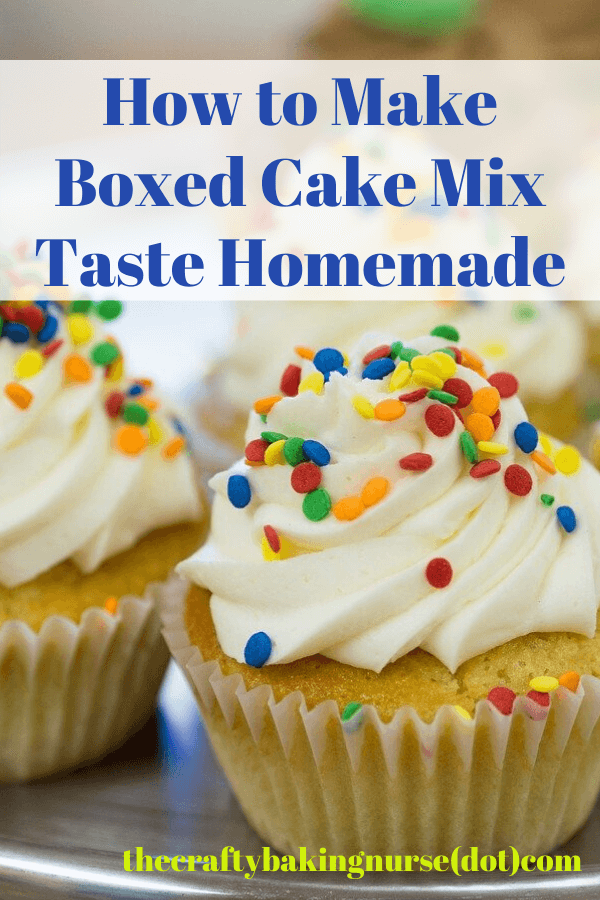 3. The more eggs the moister
I use 4 eggs instead of 3. Adding eggs gives the cake a richer flavor and makes it moister. (More moist?) It also makes the cake fluffier and lighter.
4. You can add a dollop of sour cream to your cake mix to up the moisture factor.
When I initially heard this, I thought for sure it would add a funny taste to my cake. However, I can't even tell it's in there. The cake, however, is so much richer with an extra 1/2C or so of sour cream.
5. Add pudding to your cake mix
I don't mean Sack Pack pudding. However, adding a box of instant pudding (just the powder, not the made pudding) can be a fun addition to your yellow cake. What's better, the combinations of cake+pudding are endless.
Not only can you add almost any pudding flavor to yellow cake mix, but there's also options such as:
Red velvet cake mix and chocolate pudding
Strawberry cake mix and cheesecake pudding
White cake mix and french vanilla pudding
Just make sure the color combination works. I can't imagine strawberry cake mix and chocolate pudding would make a pretty cake color.
Lastly……
6. Let your ingredients get to room temperature.
Your eggs and butter will do better if you let them get to room temp before using them in your cake. I don't know why. I'm sure there's a reason.
(10 minutes and 4 topics later via the Google)
Room temp ingredients like eggs and butter form an emulsion (think oil and water) that traps air. When baked, this makes fluffy baked goods. (Yeah science.)
For BOX CHOCOLATE CAKE MIXES, I add a few additional things
Cafe Bustelo Instant Espresso Powder
This little package contains pure awesomeness when it comes to baking with chocolate flavors. It makes your cakes and cupcakes taste SO MUCH BETTER.
It also makes your coffee better 🙂
I don't know what it is about it (again, probably something to do with science and enhancing the flavor), but one of these will make your chocolate cake or cupcakes POP!!
I also add coffee to my milk in the initial ingredients. For example, if the recipe calls for a cup of milk, I use a half a cup of milk and a half a cup of coffee (NOT HOT COFFEE!!!)
Well, there you have it. Easy peasy little things you can do to make your chocolate cake/cupcakes taste better. Trust me, the people eating them will thank you.
They will also be amazing by your baking prowess.
Recap: Box Mix Hacks to make your boxed cake taste like bakery.
Use more eggs
Use butter instead of oil
Use milk instead of water
Add sour cream
Add pudding mix
(For chocolate cake) Use Cafe Bustelo Instant Espresso
(For chocolate cake) Use coffee with your milk
If you need an amazing icing recipe, might I recommend this blueberry buttercream icing. It works especially well with chocolate cupcakes.
If you're looking for more things you can easily do with boxed cake mix, check out my Cake Batter Blondies or Easy Banana Bread recipes.
A few of my favorite things for making and baking.
Here are some of my favorite things for baking. Click the pics to check them out.