As an Amazon Associate I earn from qualifying purchases.
I think I was from New Orleans in a past life. My love of the city runs deep, as does my love of Cajun and Creole Cuisine. This cajun cauliflower rice is a great and healthy way to bring just a little NOLA into your life.
While I love, love, love jambalaya, po-boys and beignets (all that powdered sugar), sometimes we just have to give up some carbs. Not really possible with most New Orleans food. However, this "rice" is made with cauliflower, so it's much lighter on the crabs than traditional rice.
I made this cajun cauliflower rice with a low carb count in mind, and it more than hit the spot. It was super easy and FULL of flavor, with just enough spice to make me want more.
You have to be careful with Louisiana cultures and foods, however, because there are some big differences.
Cajun Vs Creole: What's The Difference
In terms of culture, Cajun people are typically from more rural settings like southern Loisiana, while Creole people are from urban areas, like New Orleans itself. If you're in New Orleans, you may hear it said that Creole means "fancy" and Cajun means "country".
Southern Living magazine says, "One cuisine was born in the city, while the other hails from the Louisiana swamp country."
In terms of food, there are ways to tell if a dish is Cajun or Creole.
Creole dishes contain tomatoes and tomato products, while Cajun dishes do not. I read somewhere that this was because the Creole people in the early days of Louisiana had more access to "expensive" ingredients like tomatoes. Not sure if that's true, but it makes sense.
Both Creole and Cajun cultures use the Louisiana "holy trinity of cooking", which is onions, bell peppers and celery. These veggies are found in abundance in warmer climates, making them the perfect additions to Louisiana recipes.
Creoles tend to use more seafood in their dishes. This is because in the days before modern refrigerators, most Creoles had ice boxes, which worked well to keep foods cold. This means they also had butter for their roux.
We will talk about roux in a minute.
Cajuns, on the other hand, lived in the back country and had to use fresh meats. They learned very quickly to use all parts of the animals they cooked with, including the organs and intestines. They also did not have ready access to things like butter, so their roux was made with oil or lard.
But what the hell is roux?
Roux, part of the French phrase for meaning "brown butter", is a fat mixed with flour to create a thickening sauce generally used in soups and stews.
As previously mentioned, Creoles use butter mixed with flour to make their roux while Cajuns use oil or lard mixed with flour.
Regardless of the agents used, the end result is a great thickening and flavoring agent for jumbo, jambalaya and a multitude of other dishes.
A Lesson in Louisiana Sausage
Early day Cajuns used a very particular type of sausage for their meals.
If you have a sensitive stomach, skip this section.
Seriously.
No? Ok then.
Andouille sausage (pronounced ahn-DOO-ee) is a mainstay of Cajun cooking. It involves shredding the stomach and small intestine of the pig, mixing it with spices and onion, and stuffing it in a casing made from the pig's large intestine.
Delightful, right?
Fear not. American grocery stores store andouille sausage that is made from the pig's shoulder (pork butt). So while both are delicious, you'll probably end up using the latter variety in your meal.
Can cajun cauliflower rice be refrigerated or frozen?
You can absolutely keep this meal refrigerated in an air-tight container for up to a week.
I would not recommend freezing cauliflower rice because it does not seem to do well when reheated after being cooked (again lol).
Cajun Cauliflower Rice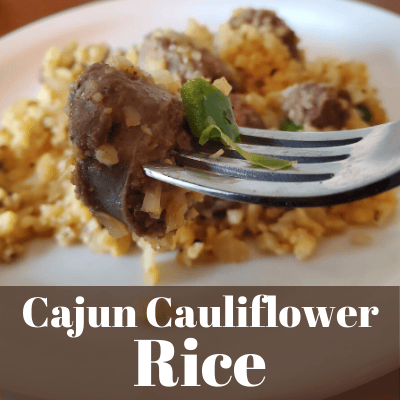 This easy, low carb Cajun cauliflower rice with add just the right amount of spice to your meal.
Ingredients
2 10oz bags of frozen cauliflower rice
13oz andouille sausage, cooked
1 large bell pepper, chopped
1 onion, chopped
2 Tbs olive oil
1-2 Tbs Cajun seasoning
Salt and pepper to taste
Instructions
Heat olive oil over medium heat. Add onion and pepper and cook for 3-4 minutes or until veggies have softened.
Add sausage and cook for additional 2 minutes.
Add the frozen cauliflower rice and cook for an additional 5 minutes or until rice is warm.
Season with Cajun seasoning, stir and serve.
If you are looking for some different low carb meals and desserts, check here.
Things I used in this post: