As an Amazon Associate I earn from qualifying purchases.
I've probably said this a million times, but it bears repeating.  I LOVE EASY RECIPES. The less time it takes/ingredients it uses, the more into it I am.  This caramel apple dump cake is no different.

For the past couple of weeks, we have been doing a weekly group night with several other members of our church. The church does these groups several times a year.
The group we chose to be a part of this year was based around a book. It is called "The Seven Decisions" by Andy Andrews. It's an exceptional book about 7 decisions you can make that can make life extraordinary. It's truly amazing. But I digress.

I have volunteered every week to make dessert. There are very few chances to make dessert for anyone besides my family, so I jump at the option when it presents itself. I have made tiramisu, peach cobbler and now the amazing dump cake. Sorry I didn't post the others. I will.
When I say this caramel apple dump cake recipe is easy, I mean it's EASY. 4 ingredients and 45 minutes. It would only be easier if it was already assembled and cooked in the microwave. Wouldn't be nearly as good, though.
This dump cake recipe is very cobbler-like and essentially fool proof.
You start by greasing a 9×13 pan and preheating the oven to 350 degrees.
While the oven is preheating, you pour the apples into the pan. Make sure they are evenly distributed so each bite of the cake has apples in it.
Then you drizzle (or pour, because caramel is delicious) the caramel on top. Cover it in cake mix and then add the butter.
This caramel apple dump cake makes an excellent dessert for a party or get-together, but it's also a good idea for a low-key night at home. It's amazing fresh out of the oven with a big scoop of vanilla ice cream. Seriously. Half-melted ice cream on top of warm dessert??? Nothing better.
If you're looking for a good "before dessert" meal, try this one.
Caramel Apple Dump Cake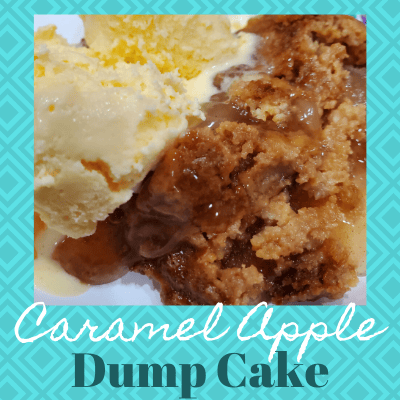 Ingredients
2 (21-oz) cans apple pie filling
1/3 cup caramel ice cream topping
1 (18.5-oz) package yellow cake mix
1 cup butter, melted
Instructions
Preheat oven to 350 degrees F. Spray cooking spray in a 9x13 inch pan.
Pour apple filling into pan and drizzle caramel on top.
Sprinkle dry cake mix on top of apples.
Drizzle butter over the dry cake mix, making sure to cover mix well.
Bake 45 minutes or until crust is brown.
Serve with ice cream or whipped cream.
Things I used for this caramel apple dump cake recipe