As an Amazon Associate I earn from qualifying purchases.
I love meatloaf. I've made it a million different ways and I've never had one that wasn't good. This CHEESY LOW CARB MEATLOAF is no different. It was full of flavor and a really easy recipe to make.
We have a ton of deer from the fall's hunting season, so I used ground deer for my meatloaf recipe, but you can use ground beef as well.
Either one is a good call.
Meatloaf is one of my favorite meals. No matter what recipe I've used or who's meatloaf it has been, I have NEVER had a bad one.
There is one thing about meatloaf that I despise, however. That is the mixing of the ingredients.
There is no good way to mix meatloaf. You just have to add everything into a bowl, and then get both hands dirty. I mean REALLY DIRTY. And hamburger meat (or deer) is so squishy and wet and gross.
It's a good thing that it's so darn worth it.
Meatloaf is a super easy meal to make, but it takes a while to cook. If you're pressed for time, you can make mini-meatloafs using a muffin tin and cook them for about 30 minutes. Otherwise, give yourself about an hour of baking time.
No, seriously. Meatloaf takes a solid hour at 350 degrees. Sometimes slightly less, most of the time more. Be prepared and plan accordingly.
Top your cheesy low carb meatloaf with sugar free ketchup or good old mayonnaise. OR you can mix the mayo and ketchup together, which may be one of the best mixtures ever.
This delicious recipe has about 2 carbs per serving and there are 8 servings in the recipe. If you make it and enjoy it, let me know in the comments.
If you're looking for an awesome dessert option to go along with this, may I suggest apple cinnamon roll cake?
Cheesy Low Carb Meatloaf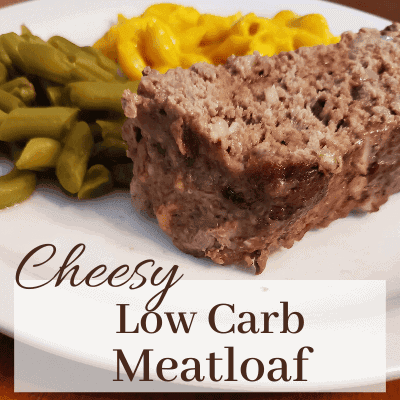 Total Time
1 hour
10 minutes
Ingredients
2 pounds ground beef
2 eggs
1/2C Parmesan cheese
1/2-1 C cheddar cheese
Onion, diced
1.5-2 tsp garlic powder
Salt and Pepper to taste
Instructions
Preheat oven to 350 degrees.
Grease 9x13 pan.
Mix all ingredients together and foam into loaf in pan.
Bake for approximately 1 hour or until no longer pink.