As an Amazon Associate I earn from qualifying purchases.
I love icing. It is probably one of my favorite things. Now that I have found the perfect homemade chocolate buttercream icing recipe, I can make it at home.
When I say I love icing, I really mean I LOVE ICING. I'm the person that will take the corner piece of birthday cake or take my kids leftover cupcake icing because there's "too much icing" or "it's too sweet".
NOT A THING.
I also love experimenting with icing ingredients. I'll add more butter, less butter, more sugar, etc. This easy recipe is probably the best one I have found.
(BTW, along with an amazing frosting recipe, this post also contains affiliate links, These are links that pay me a commission on purchases you make. No extra cost to you.)
Making icing can seem like a daunting task, but it's actually super easy if you follow the recipe. I will try and answer some of the questions that get asked when attempting to make homemade frostings and give some of my favorite chocolate icing tips and tricks.
shortening vs butter
You totally can. I just 1. never have shortening on hand and 2. am not a huge fan of the greasiness of shortening. If you want to exchange the two, though, it's the same amount for both.
The advantage of shortening in homemade frostings is the added stability, which helps on warmer days or in warmer climates.
You can also add a combination of both to help with stability but cut down on the greasiness. Nothing ruins chocolate buttercream icing faster than greasiness.
storage requirements and expiration dates
You can store homemade buttercream icings in the refridgerator. Since they have milk-based products in them, it is recommended to use them within 7 days of making them.
why room temperature butter?
Butter that has been out and allowed to get to room temperature, it makes it more "whippable". This means that it will allow air in, making it more fluffy.
You cannot warm butter in the microwave and achieve the same effect. If you don't have room temp butter, you may want to hold off making this recipe until you do.
Why sift?
Sifted powdered sugar allows all of the lumps to be broken down and also adds air to the sugar. These things lead to fluffier icing. If you don't have a sifter, you can still use this recipe. Just be prepared to have gritty icing if there are lumps in your sugar.
The same goes for the cocoa. If you have a sifter, use it.
What can you use this recipe for?
This recipe is not only good for cakes and cupcakes, but can also be used on cookies like these eggless sugar cookies.
buttercream frosting troubleshooting and tips
Too thin? Add powdered sugar
Too thick? Add heavy cream
Not enough frosting? This recipe can easily be doubled or tripled.
Add a tiny bit of powdered espresso (like this one) to this chocolate icing recipe to dial up the chocolate flavor. Coffee potentiates chocolate flavors, making your homemade chocolate icing even more delicious.
Bet you didn't think that was possible, huh?
YEAH SCIENCE.
Use a stand mixer. Trust me. It's so much easier. They can be a little pricey, but they are worth every penny.
If you have a stand mixer but don't know which attachment to use, this guide will help.
For cupcakes, invest in a good cupcake carrier. I have this cupcake caddy and I love it.
Yield: 24 Cupcakes or 2 layer 9inch cake
Homemade Chocolate Buttercream Icing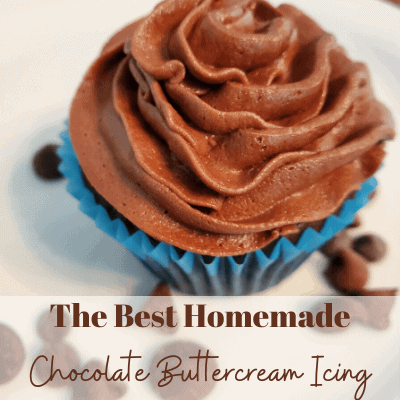 This homemade chocolate buttercream icing will make your cake or cupcakes taste amazing. With only 5 ingredients and minimal time, you'll have a rich and creamy icing that tastes so much better than store bought.
Ingredients
2 C unsalted butter (room temp) or shortening
3-4 C powdered sugar (sifted)
1 tsp vanilla extract
1-4 Tbs heavy cream
1/2 C cocoa powder
Instructions
Cream butter with stand mixer until fluffy
Add vanilla and 1-2 Tbs heavy cream and mix.
Add cocoa and mix.
Add powdered sugar 1 cup at a time and mix until combined. Add extra heavy cream 1 Tbs at a time until desired consistency is reached.
Use immediately, keep in fridge for up to one week or freeze for approximately 1 month.
For more dessert ideas, check these out:
If you're making your cake/cupcakes as well, check out these hacks to make your box cake mix taste like bakery cake.
Things i like for this recipe