As an Amazon Associate I earn from qualifying purchases.
This repurposed cardboard box turned into the cutest DIY storage container. It was also really inexpensive to make. This is a perfect DIY craft for a lazy afternoon where you just want to make something.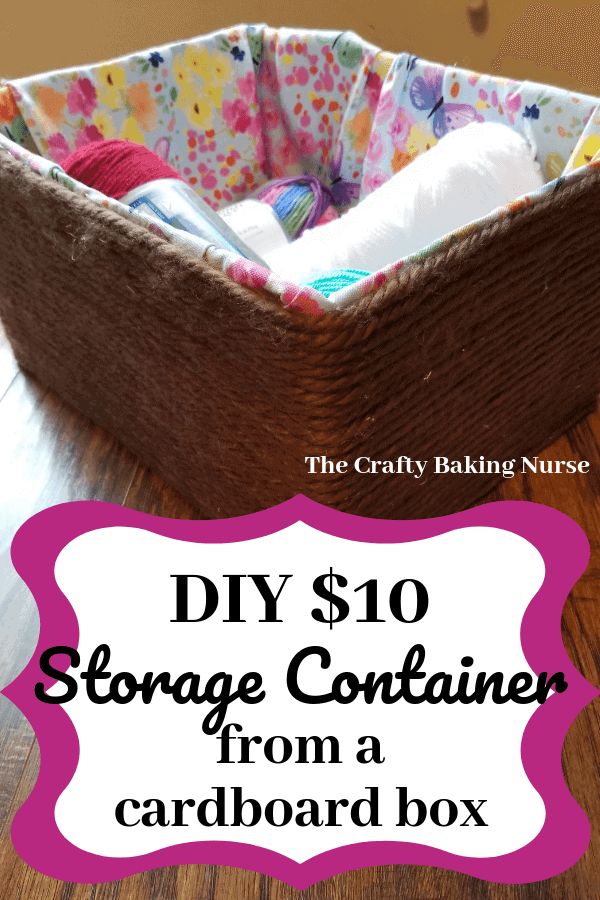 This post contains affiliate links, which means I may make a commission if you use a link and make a purchase. No extra cost to you. Read more about that here.
The crafter in my always has random supplies scattered throughout the house. Recently, my yarn collection has migrated from the upstairs craft storage area to my living room. To get them out of sight (and out of Josh's hair), I threw them all in a cardboard box and stowed them beside the couch. Out of sight but not necessarily out of mind.

I hated how janky that cardboard box looked just hanging out on the floor. I knew I needed to do something to it, but I didn't want to spend a bunch of money on a new storage container OR on craft supplies.

Then I had the idea to see if I could do a DIY craft project of my own for less than $10. And guess what? It was a mega success. I made the cutest little DIY storage container.

I bought fabric to cover the inside and some brown yarn for the outside from a craft store. The fabric was $4/yarn on sale ,and since I had no idea how much I was going to need, I bought a yard.

Michael's: 40% off Any One Regular Price Item Using Promo Code: 40SAVE41419T
The yarn was $5 and some change. I was originally going to wrap it in twine, but after looking at the prices for the twine I wanted, I QUICKLY changed my mind. The yarn I ended up buying was a dark brown and looks quite a bit like twine. Buy a thicker yarn, though, or you're going to be gluing ALL. DAY. LONG.
Making a DIY Storage Container from a Cardboard Box
Equipment
1 yarn of fabric of your choice
1-2 skein of your choice of yarn (I bought 2 skeins of Yarn Bee Uber Luxe in chocolate, but only ended up needing one)
Instructions
Cut the closing flaps off of the box. You won't need those. Use an Exacto knife for this, which isn't want I did because I didn't feel like finding mine, so I used the worst pair of scissors in my kitchen.
2. I set the fabric on top of my box and pushed it inside until it covered the entire interior, then did a little moving to minimize the amount of waste . When I found out where to start cutting, I went ahead and attached glue to one side of the box. Then I slowly attached the fabric to the remaining sides, making sure to keep an eye on the amount of fabric inside the box. I'm sure there is a way to make this pretty, but I didn't want to waste the time.
3. After the fabric is attached, cut off any extra from around the outside of the box. This will keep the yarn from bulging when you begin adding it.
4. Glue your yarn to the box. I glued it will a little tail that I glued under the yarn I was wrapping around the box to make sure you couldn't see where the yarn beginning was.
5. Glue and wrap, glue and wrap, glue and wrap.
6. When you get to the end of the box, glue the end tail of the yarn under the box. I didn't do this and had a monster of a time "hiding" the end of the yarn.
And that's it. An easy, cheap way to repurpose an old cardboard box. Next time, I will try and make the fabric inside prettier. Not because it bothers me, but just to see if I can.

A Few of my favorite things
Here are a few of the things I used to make this DIY Storage container