As an Amazon Associate I earn from qualifying purchases.
I love an easy recipe. If I can make it in less than an hour, sign me up. These easy chicken enchiladas are one of those. In less than an hour, you have a delicious meal that the wehole family will love.
I adore some mexican food. Tortilla chips, cheese dip, and guacamole are all pretty amazing. I have several mexican recipes, but this one is one of the easiest. The simple steps and easy ingredients make some of the best chicken enchiladas. It's a perfect recipe for busy nights. My picky 13 year old even ate it (mostly).
For this recipe, you'll need the following ingredients:
6 flour tortillas
4 chicken breasts
An onion
A can of Rotel (diced tomatoes and green chilies), drained
Cilantro
2 C shredded cheese (cheddar, colby jack, pepper jack, mexican cheese blend. I have even used mozarella)
2 Tbs of some sort of mexican seasoning. Fajita, taco, whatever. I do have a good recipe for a

homemade taco seasoning

if you'd like it.
1 C (or more) of cheese dip
A couple Tbs of olive oil (or really any oil works)
In terms of equipment, you'll need:
The steps to this recipe are pretty simple:
Cook the chicken. I normally boil mine, but you can also grill it or bake it. You can also use store-bought rotisserie chicken. As long as it's cooked 🙂
Chop the onions and shred the chicken.
Heat some oil in a large skillet over medium-high heat.
Cook the chicken and onion in the oil for about 5 minutes in the skillet. Add the drained Rotel and the seasonings. I don't normally measure my ingredients, but I'd say I probably added about 2 Tbs of mexican seasoning and a Tbs of fresh cilantro (or the dried stuff is good too).
Turn on the oven to 350 F and grease a 9×13 baking dish.
Pour a half cup of chicken mixture into the middle of each tortilla. Roll the tortillas up and place them seam side down in the baking dish.
Top each enchilada with cheese dip. Lots and lots of cheese dip.
Bake for about 20 minutes.
You can store any leftover easy chicken enchiladas or leftover chicken mixture in an airtight container for about 2 days. Maybe 3-4 days, but I don't eat leftovers after the first day.
In terms of what you can serve with this meal, I recommend refried beans or mexican rice. Chips and cheese dip are also ALWAYS a good idea.
A word on folding tortillas……
Folding tortillas is not an easy task sometimes. You have to make sure all of the variables align or you will see how futile the efforts are.
You have to have a big enough tortilla. Tiny baby tortillas won't roll the right way or uou won't be able to put enough filling in them.
You have to have the right amount of stuff inside it. You can't fill a tortilla so full that it won't roll.
I can't give you exacts on either of these pointers. It's trial and error, sorry.
To effectively roll an enchilada, you fill it with stuffing, folding 2 sides in around the filling. Then you take the third side and "tuck" it around the stuffing. Then roll it up on the 4th edge.
Make sure when you bake these, that seam you made when you rolled them is on the bottom of the pan.
All in all, I highly recommend these easy chicken enchiladas. They are perfect for busy nights, cook at home date nights or any other night 🙂
Easy Chicken Enchiladas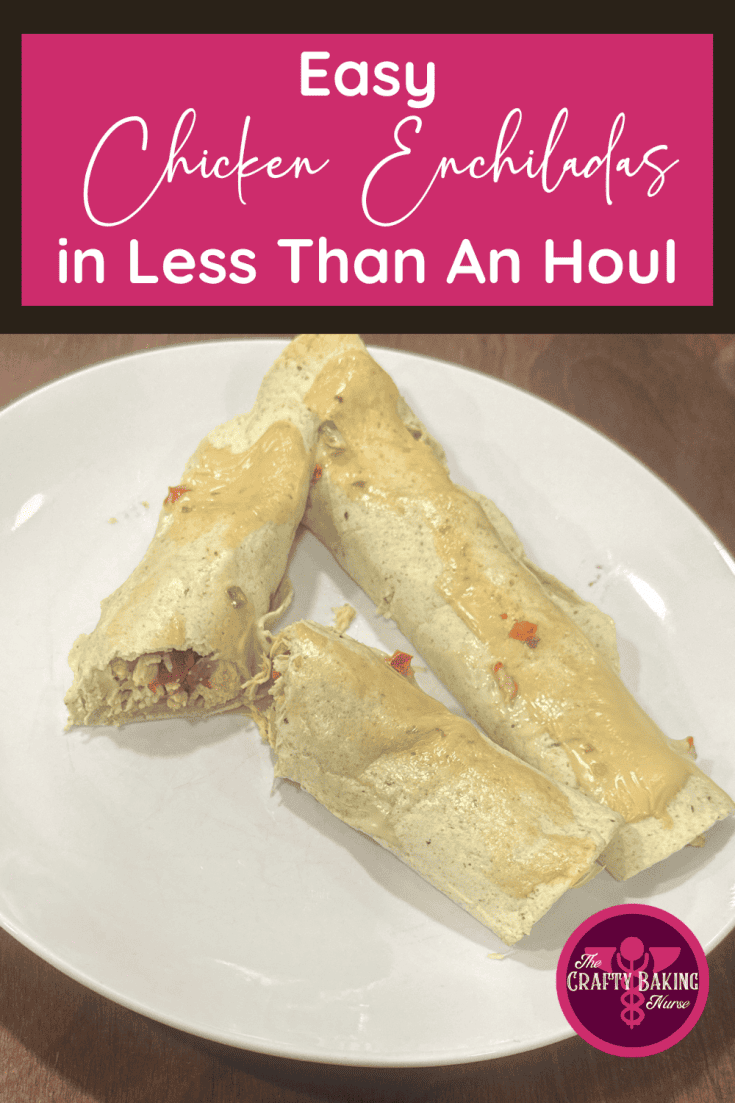 Easy 45 minute chicken enchiladas are sure to be a hit with the entire family! They are easy to make ans taste delicious.
Ingredients
1 pound of chicken (cooked and shredded (I boiled mine, but I'm sure any tupe of cooked chicken will work))
1 can Rotel (drained)
1 onion (chopped)
1 cup shredded cheese (I used cheddar because I had it on hand)
1 cup cheese dip (I used Tostinos Queso Blanco dip, again because on hand)
6 tortillas (the burrito kind because they are bigger)
1 TBS oil of choice (I used coconut because I had it)
1 Tsp Cilantro
2 Tbs mexican seasoning
Instructions
Preheat oven to 350°F and grease a 9x13 baking dish.
Add chopped onion to skillet with oil over medium heat. Add shredded, cooked chicken and cook until onions are cooked through (about 5-7 minutes). Remove from heat, add mexican seasoning and stir to combine.
Add Rotel, seasoning and Cilantro and mix well.
Spoon about a half cup of mixture into tortilla. Fold left and right sides in. Then fold bottom and "tuck" it under. Roll and place SEAM DOWN into greased 9x13 pan.
Top with cheese dip and shredded cheese.
Bake for approximately 20 minutes, until cheese is melted.