As an Amazon Associate I earn from qualifying purchases.
I have always been a huge fan of chicken noodle soup. Honestly, I've always been a fan of ANY soup. There's just something about homemade chicken noodle soup that makes even a good day better. This easy homemade chicken noodle soup recipe is A+ for an easy cold weather treat or fast weeknight dinner.
A Brief History of Soup
Did you know soups have been around since about 20,000 BC? That's crazy to think about, but it makes sense because they are so easy.
Way back in the day (like, the day of dinosaurs), Neanderthals were stumped by animal bones. Being a people that used every part of the animal, they could not figure out what to do with the bones. They couldn't eat them because they were too hard. They also couldn't use them for tools or shelter because they were too soft. Most of the time, the bones were just thrown into the fire.
I'm not sure how or why someone finally decided to boil the bones, but they did and that's where bone broth comes from. Eventualluy they began adding other ingredeients and figured out the broth isn't that bad.
Fast forward a few years, and soup endured as a cheap option for the poor in the 10th-12th centuries.
In 1742, the first recipes for soup were printed in cookbooks, followed in 1772 by entire chapters of soups in recipe books.
In 1895, the first ready-to-eat soups were introduced. While these soups were inexpensive to make, they were difficult and expensive to ship. That changed in 1897, when chemist Dr John T Dorrence figured out how to eliminate the water in soups, giving us the :condensed" versions we still use today.
In 1898, Campbell's soups used their trademark red and white labels for the first time. By 1962, Andy Warhol was painting those red and white cans on canvas which now are worth millions of dollars.
You start this recipe with chicken. I used fully cooked and shredded chicken breasts, but you can also use rotisserie chicken. I usually just boil my chicken for about 5-7 minutes, until it is cooked through. After it's done boiling, I let it cool and clean the pot, since it will be the same pot I use for the soup.
I start by adding about 6 cups of chicken broth or chicken stock. I've used both and they have a very similar taste. I heat that to boiling on medium-high heat, while adding in either fresh herbs or the grocery store variety. I use thyme, rosemary, garlic powder and bay leaves. Once the broth is boiling, I add carrots, celery and onions. You want to add these first to make sure they have time to cook through before adding any noodles.
Making Soup
For this chicken soup recipe, I let the veggies cook for about 20 minutes. During this time, I shred and add my chicken.
When the veggies are tender (specifically the carrots), I add the egg noodles. Egg noodles do not have to cook for very long. On medium heat, I usually only have to cook mine for about 5 minutes. Be carfeul when you add the noodles, however, as they will absorb the broth. I usually add a few cups of water and some extra thyme and parsley to add some bulk back to my soup.
The great thing about soups is how well they keep in the fridge. You can save leftover chicken noodle soup in the fridge for about a week in an airtight container. If you choose to make this delicious chicken soup to freeze, I recommend just cooking the egg noodles to al dente. Freezing and thawing noodles can make them mushy, so I wouldn't cook them all the way so they can finish cooking when you reheat the soup. Just my opinion.
If you're looking for other amazing recipes, you should check here.
Amazon Suggestions for the Recipe
Yield: 4 servings
Homemade Chicken Noodle Soup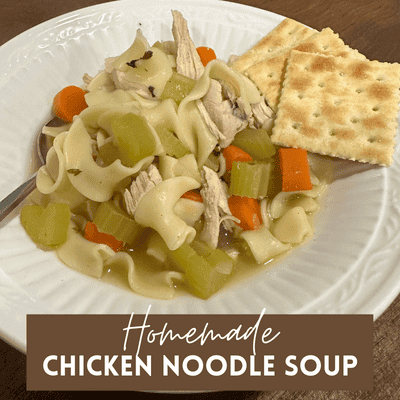 This amazing chicken noodle soup is easy and delicious for chilly nights or quick weekend meals.
Ingredients
1/2 medium yellow onion, diced
6 medium carrots, sliced
6 stalks celery, sliced
1 Tbs garlic powder
6 cups chicken stock or broth
2 large boneless, skinless chicken breasts, cooked and shredded
2 dried bay leaves
1 Tbs dried thyme
1 Tbs dried rosemary
1/2 bag egg noodles
2-4 cups water, if needed
3 tablespoons fresh parsley, finely chopped
salt and pepper to taste
Instructions
Pour chicken broth into pot on medium to medium high heat. Add herbs. When boiling, add veggies and cook until tender. Add shredded chicken.
Add egg noodles and cook until noodles are tender.
Remove bay leaves and enjoy!
FOR CROCKPOT- add broth, herbs and veggies and cook on low for 4 hours. Add egg noodles and cook for additional 30 minutes to 1 hour , or until noodles are tender. Remove bay leaves before eating.
Notes
I cannot say this enough! Remember to remove the bay leaves before eating (ask me how I know).