As an Amazon Associate I earn from qualifying purchases.
I made the most amazing homemade pizza pockets last night. They were warm and soft and so easy. They reminded me a lot of hot pockets, only WAY more delicious.
This recipe is perfect for a number of occasions. Use it for an easy dinner idea, a snack for game nights, or you can wrap them in plastic wrap/ place them in an airtight container and freeze to eat later. The whole family will love these easy pizza pockets filled with their favorite toppings and warm mozzarella cheese.
I loved this recipe for several reasons.
Everyone can have what they want.
Cooking for kids can be time-consuming and frustrating, especially if you have picky eaters. With these pizza pockets, everyone can choose their favourite toppings and have a meal all their own. I made pepperoni pockets as well as sausage and mushroom.
It was easy.
It took me less than an hour to make these homemade pizza pockets, and only a couple of ingredients. If you make them all the same, it's even easier. It also only took about 20 minutes to cook them, and just like regular pizza, these homemade pizza pockets make great leftovers.
They were better than pizza, in my opinion.
Anyone who knows me knows that I ADORE pizza. It's the only meal that gets eaten weekly in my house. I would eat it every day if I could.
These homemade pizza pockets were so much better than regular pizza. I loved that I could control the amount of sauce and toppings in my pocket. I loved that there was just enough bread (that's my favorite part). I loved the flavors. I just loved these little things!
There were a few mistakes, however, that I can caution you against.
Make sure you have enough dough.
One roll of refrigerated pizza crust will give you 6 pockets. That unfortunately wasn't enough for my family of four (2 of whom are growing children who eat everything), so I had to improvise.
I luckily had a roll of crescent dough on hand (not the roll 'em up kind but a legit roll of crescent dough. Not sure what I had planned on making with that). I made an additional 4 pockets with that and I liked those even more than the pizza dough ones.
Don't spread your sauce out too widely.
I made the mistake of spreading my sauce out almost to the ends of the dough. It made sealing them a bit more complicated. Messy homemade pizza pockets are no beuno!
Cut your dough into rectangles and fold them over to seam.
Don't cut them into squares and place one on top of the other. Trust me, folding them is WAY easier.
Ingredients
1 can pizza dough (or crescent roll dough works really well. Please note this is NOT CRESCENT DINNER ROLLS.) You could use homemade dough, but I'm lazy and not that proficient at making dough.
About 10-15 Tbs pizza sauce
Your favorite pizza toppings
2 Tbs olive oil of one egg
Italian seasoning
Mozarella cheese
Cup of warm water (optional)
A little more about making your own dough.
I'm sure it's not difficult to make homemade dough. I've made dough for other things, and the premise is essentially the same. You just mix flour, salt, water, oil, sugar and yeast and use a dough attachment on your Kitchenaid mixer (if you don't have one, you're missing out!) Ithink after it's all mixed up, you have to let it sit for an hour so it can rise. Then you roll it out with a rolling pin and proceed as instrucetd. I'm just a sucker for store-bought dough, because it's right there and ready for me to use. If you have a good and easy recipe for dough, drop it in the comments. I'm always interested in trying new things.
Toppings that will work really well with homemade pizza pockets:
Green peppers
Pepperoni slices
Pineapples (don't judge)
Ham
Chicken
Bacon
There are literally a million combinations of ingredients you can use. You could even use alfredo sauce or BBQ sauce instead of pizza sauce. You could even go vegetarian and use feta cheese, pesto and some roasted veggies!
Instructions
Preheat oven to 425 degrees F and line a baking sheet with parchment paper.
Open the tube of dough and roll out flat. If sticky, use a lightly floured surface to decrease the stick.
Cut the dough into 6 rectangles. I use a pizza cutter to divide my dough. It works way better than a knife.
Add to one side of rectangle sauce, cheese and toppings to your liking, making sure not to spread the sauce too close to the edge.
Fold dough over and seam with a fork. If the fork is sticky or the dough is not seaming, use a little warm water.
Brush top of each pocket with oil or egg wash and sprinkle some Italian seasoning on top.
Bake for 10-13 minutes, until top is golden brown.
Let sit for 2-3 minutes and BE CAREFUL because the insides will be warm.
Serve with pizza sauce (or Ranch if you're my oldest) for dipping.
My personal favorite toppings are pineapples and ham, but since there were small, picky children involved, we used mushrooms and sausage.
Storing and reheating homemade pizza pockets
When I made these, I had leftovers. I just threw them in a airtight container and refrigerated them. They lasted until I ate them all, which was about 4 days.
If you're thinking of freezing them, the same airtight container/freezer bag applies. Just thaw them in the microwave for 2-3 minutes and then pop them in the oven for about 15-20 minutes at 375 degrees F.
All in all, this easy homemade pizza pocket recipe was wonderful.
If you're looking for additional delicious, no fuss meals, check some of my favorites out right here.
Some of the things I used when making this recipe include:
Yield: 6 servings
Homemade Pizza Pockets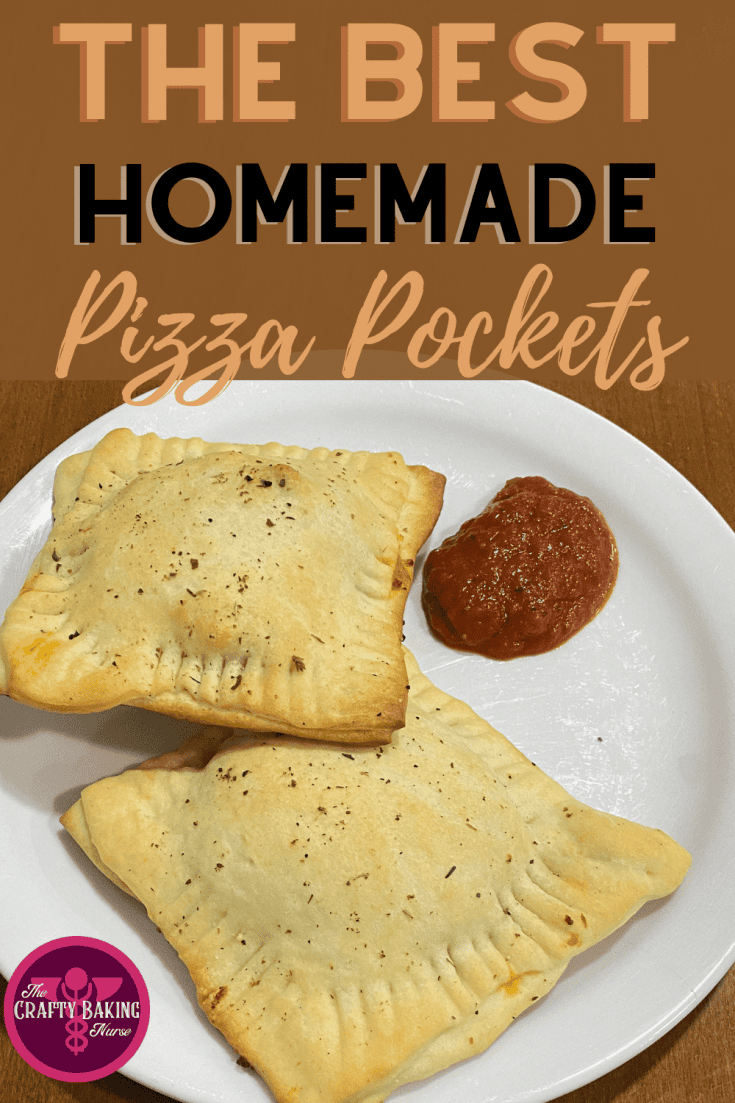 These homemade pizza pockets are delicious and super easy to make. You can also customize them with whatever toppings you like, meaning picky kids can now add whatever they want to their pocket.
Ingredients
1 can refrigerated pizza dough (or crescent doll, see above "mistakes" section for more info)
1 jar pizza sauce
1-2 cups mozzarella cheese
Pizza toppings of choice
1 Tbsp olive oil
1 tsp Italian seasoning
Instructions
Preheat oven to 400ºF.
Line baking dish with parchment paper.
Open and unroll pizza dough onto parchment paper, flattening if necessary. Use a pizza cutter to cut dough longways into three sections. Cut across to create 6 dough rectangles.
Spread 1.5-2 Tbs of pizza sauce on lower half of each rectangle. Add toppings of choice and 2-3 Tbs mozzarella on top.
Fold top half of dough over bottom half and press seams closed with a fork.
Brush oil onto the top of each pocket and sprinkle with Italian seasoning.
Bake 12-18 minutes, until tops are golden brown.