As an Amazon Associate I earn from qualifying purchases.
If my kids were to pick a favorite food out of my arsenal of home cooked foods, it would probably be my low carb taco pie.  If I was to pick their favorite food based on how much they eat, it would be my kid-approved beef stroganoff.
This beef stroganoff recipe is super easy and fun to make. 30-40 minutes is all the time you need to make this wonderful meal.

You start with 2 packages of beef stew meat. I cut these into pieces smaller than those in the package. This is both to cut some of the fat off and because my kids are carnivores who don't chew their food well sometimes.

Then you can brown the meat in a skillet with a tablespoon of vegetable oil. I like my steak medium rare, so I only cook it for about 5-10 minutes on medium high, just long enough to brown it. When it's done cooking, mix it in a bowl with 3 tablespoons of Worcestershire sauce, salt, pepper and onion powder.
While the meat is chilling (not literally, just figuratively), I cook the egg noodles as directed on the package. If you need further instruction on how to follow package directions, I'm not the girl to help you. Sorry.

After the noodles are done, drain the water and add the noodle back to the pot. Then I add the meat with all the juices and the rest of the ingredients.

Keep it on medium heat and stir occasionally until the cream cheese is melted. Then I serve it to my super appreciative family, who praise my cooking abilities and tell me how delicious it is.

A word of warning, though.
This kid approved beef stroganoff recipe makes enough to feed about 8 people. Cut it in half if you're not feeding a crowd. Or you can make the whole recipe and use the rest for leftovers, which is what I do.

Yield: 8 servings
Beef Stroganoff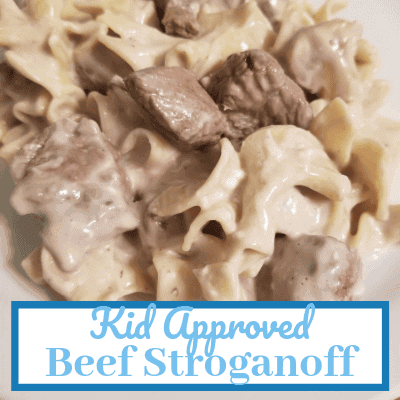 This kid approved beef stroganoff recipe is super easy and fun to make.  It only takes about 30-40 minutes and is packed with flavor and delicious. 
Ingredients
2 packages of beef stew meat
8 oz cream cheese
2 cans Cream of Mushroom soup
1 Tbs oil
3 Tbs Worcestershire sauce
1 Tbs onion powder
1 package egg noodles
1/2 cup milk
salt and pepper to taste
Instructions
Brown meat over medium high heat in skillet with a tablespoon oil oil until cooked to desired doneness. Remove from heat and toss in bowl with Worcestershire, salt, pepper and onion powder. Stir to coat.
Cook egg noodles according to package directions. When done, drain water and return noodles to pot.
Turn heat to medium and return pot to burner.
Add cooked meat and juice to noodles.
Add remaining ingredients to pot. Mix well and heat until cream cheese is melted.
Enjoy.
Nutrition Information:
Serving Size:
1/8 of recipe
Amount Per Serving:
Calories:

458
Total Fat:

21g
Carbohydrates:

51g
Protein:

18g
Nutrition information is correct to the best of my knowledge.