As an Amazon Associate I earn from qualifying purchases.
What's better than brownies??? Chocolate brownies and cheesecake!! What's even better than that? KETO CHEESECAKE BROWNIES!!!! The best low carb chocolate cheesecake brownies are the best of two absolutely delicious worlds, and are surprisingly easy to make. Even better? They cure my chocolate cravings and satisfy my sweet tooth.
Anyone who has ever made cheesecake knows how difficult it can be, especially the baking. You don't have to worry about that with this recipe, considering the cheesecake layer is on top and swirled through the brownie mixture. The thick cheesecake swirl is an excellent spin on an already popular recipe.
I got this recipe from The Foodie Affair. It looked amazing, and only has 6 net carbs. That's is a big serving, considering it's an 8×8 pan and there are 6 servings in the pan. Six carbs sounds like a lot, but when you are limited in your desserts and TRYING to be healthy, 6 is better than 12-20 in a regular brownie or 25 in a banana.
In the low carb and keto world, sometimes brownies can be healthier than fruit.
Alternative Ingredients For This Recipe
Flour
Low carb cheesecake brownies require almond flour and coconut flour, while traditional brownies utilize all-purpose flour.
The main difference between these is obviously composition. All-purpose flour is wheat based, while coconut and almond flours are (obviously) coconut and almond based.
Coconut and almond flours are both more absorbent than wheat flours, meaning you need less of them in recipes.
Chocolate
This recipe calls for German and bittersweet chocolates. I have not made it using dark chocolate or chocolates made without regular sugar (like Lilys).
This recipes does not use cocoa powder like a traditional brownie recipe, but that does not affect the taste at all.
Sugar
The brownie batter uses Truvia baking blend in place of regular sugar. This sugar substitute is great for all types of keto baking. The biggest difference between the two is Truvia and other stevia-based products are MUCH sweeter than regular sugar, meaning you use less. You can probably use your sweetener of choice, but I would run a quick Google search to make sure you're getting the correct amount.
They also have less calories.
Storing brownies
These brownies are be kept in an airtight container for 3 days, or kept in the freezer for up to a month. I'm not sure who ever has enough brownies left for freezing, but maybe not everyone can eat half a pan of brownies in a day.
On a completely unrelated side note, my kitchen is A MESS when I cook or bake. I take up all available counter space and end up getting flour/sugar/icing EVERYWHERE.
Tips and Tricks For Cooking Irresistibly Moist and Low Carb Chocolate Cheesecake Brownies
Loosely cover your pan with aluminum foil if you feel like the edges are getting overbaked.
Add some espresso powder to jazz up the chocolate taste, or substitute coffee for the water/milk.
You can use a pizza cutter instead of a knife for cutting them.
Be careful using a timer, as this can cause over- or undercooked brownies. A toothpick inserted into the center that comes out clean is the best sign that your brownies are done.
Don't cut them too soon. Let them cool off (in the fridge for saving time) before slicing.
Use room temperature cream cheese. It's easier to work with.
Some FAQs about Brownies
What makes fudgy brownies instead of cakey brownies?
Brownies that are fudgy have more fat (butter, oil) and less flour. So If you are wanting more fudge like brownies, increase the butter or oil. If you like a cake-like brownies more, add more flour.
Does it matter what type of butter you use?
No. Using salted butter instead or unsalted butter have never made a difference that I have been able to taste.
What type of pan should I use? How long should I bake my brownies?
As a general rule of thumb, 8×8 pans should bake at 350ºF for 20-25 minutes. 9×13 pans take 30 minutes or more.
Brownies baked in glassware also cook faster, but I recommend checking brownies at approximately 20 minutes. If you stick a toothpick in the center of the brownie and it comes out wet, add an additional 5 minutes and check again.
Brownies are done when the toothpick comes back with a few tiny wet crumbles stuck to it but no liquid brownie batter is seen. This is true for these as well as regular brownies.
How do I cut my brownies?
WAIT UNTIL THEY ARE COOL. Cutting warm or hot brownies will cause them to break apart instead of cutting in smooth lines.
Why are my brownies hard?
There are a multitude of reasons why your brownies might be hard.
You may have overcooked them.
This is why checking at 20 minutes and adjusting accordingly is so important. You can always cook them longer, but you can't uncook them.
Another reason your brownies might be hard is do to overmixing the ingredients.
Fudgy keto brownies require very little stirring, and always at a slow speed. Only stir enough to mix the ingredients.
Cooling near the heat source can also make your brownies hard.
Even when removed from the oven, brownies will continue to bake as they cool. Setting your brownie pan on the stove will prolong the time it takes the brownies to cool, and can lead to over baking. Let your brownie pan cool on a cooling rack if possible, or at least not near the stove.
Old ingredients are another culprit of overcooked brownies.
Check the expiration dates prior to making this recipe, as well as any time you are baking.
Anyways, if you happen to make these Low Carb Chocolate Cheesecake Brownies, please let me know what you think of them.
If you are looking for other recipes for a sweet treat, you can check here for some of my favorites. Most will not be low carb, however, because your girl likes a sugary snack.
Low Carb Chocolate Cheesecake Brownies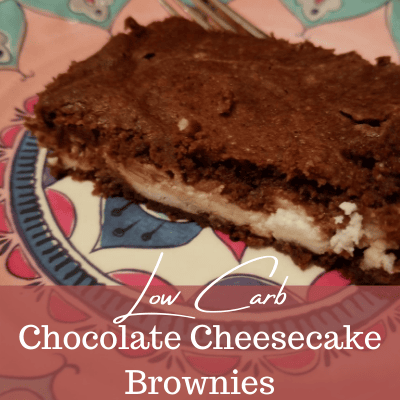 Ingredients
Brownies
2 ounces German sweet chocolate, chopped
2 ounces Bittersweet chocolate, chopped
1/4 cup butter
2 eggs
1/4 cup + 2 Tablespoons Truvia Baking Blend
1 teaspoon vanilla extract
1/4 teaspoon almond extract
1/2 cup almond flour
2 tablespoons coconut flour
1/2 teaspoon baking powder
1/4 teaspoon kosher salt
CHEESECAKE FILLING
8 ounce Cream Cheese
1/3 cup granulated sugar
1/2 teaspoon vanilla
Instructions
Preheat the oven to 325 degrees F and grease an 8x8 baking dish.
Melt chocolate and butter in microwave for 20 seconds and stir until smooth.
In a large bowl, beat the eggs and sugar together. Then and in the vanilla and extracts. Stir in the chocolate.
In a small bowl, whisk together the flours, baking powder and salt. Fold this into the chocolate mix. Take out 1 cup of batter and pour the remainder into dish. Use a spoon dipped in water to help spread it.
In a seperate bowl, beat together the cheesecake ingredients. Spread this on top of the brownie batter then spoon the remaining brownie batter over the filling. Use a knife to make swirls in the mix.
Bake for 35 minutes or until toothpick inserted into brownies comes out clean and filling is set.
Allow to cool before cutting.