This post may contain affiliate links. Please read my disclaimer for more information.
What's better than brownies??? Brownies full of cheesecake for one. Add in the fact that they are relatively healthy, and these low carb chocolate cheesecake brownies are a win in my book.
I got this recipe from www.thefoodieaffair.com. It looked amazing, and only has 10 carbs per serving according to my Myfitnesspal app. Which is a big serving, considering it's an 8×8 pan and there are 6 servings in the pan. 10 carbs sounds like a lot, but when you are limited in your desserts and TRYING to be good, 10 is better than 12-20 (in regular brownies).

(BTW, this post may contain affiliate links. This means that I make a commission if you make a purchase. No additional cost to you, though. Read more about it here.)
Brownies are one of my favorite desserts. They are super easy to make and it's really ahrd to mess them up. These brownies don't contain regular flour, only coconut and almond flour. So they are GLUTEN FREE and LOW SUGAR.

However, they were delicious according to my other half, which is good enough for me, They were moist (eeeewwwwww that word is the devil), chocolatey (is that a word) and delicious. I ate one. I plan on eating another 🙂

On a completely unrelated side note, my kitchen is A MESS when I cook or bake. I take up all available counter space and end up getting flour/sugar/icing EVERYWHERE. See??
Is this a thing with anyone else?

Tips and Tricks For Cooking Irresistibly Moist and Delicious Brownies
Loosely cover your pan with aluminum foil if you feel like the edges are getting overbaked.
Add some espresso powder to jazz up the chocolate taste, or substitute coffee for the water/milk.
You can use a pizza cutter instead of a knife for cutting them.
Be careful using a timer, as this can cause over- or undercooked brownies. A toothpick inserted into the center that comes out clean is the best sign that your brownies are done.
Don't cut them too soon. Let them cool off (in the fridge for saving time) before slicing.
Anyways, if you happen to make these Low Carb Chocolate Cheesecake Brownies, please let me know what you think of them. (And as always, if I have a typo or part that doesn't make sense please let me know.)
If you're looking for some additional dessert recipes, check these out.
Low Carb Chocolate Cheesecake Brownies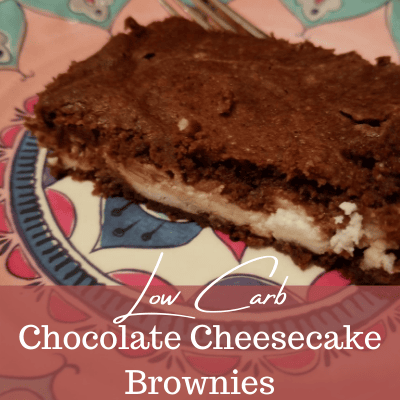 Ingredients
Brownies
2 ounces German sweet chocolate, chopped
2 ounces Bittersweet chocolate, chopped
1/4 cup butter
2 eggs
1/4 cup + 2 Tablespoons Truvia Baking Blend
1 teaspoon vanilla extract
1/4 teaspoon almond extract
1/2 cup almond flour
2 tablespoons coconut flour
1/2 teaspoon baking powder
1/4 teaspoon kosher salt
CHEESECAKE FILLING
8 ounce Cream Cheese
1/3 cup granulated sugar
1/2 teaspoon vanilla
Instructions
Preheat the oven to 325 degrees F and grease an 8x8 baking dish.
Melt chocolate and butter in microwave for 20 seconds and stir until smooth.
In a large bowl, beat the eggs and sugar together. Then and in the vanilla and extracts. Stir in the chocolate.
In a small bowl, whisk together the flours, baking powder and salt. Fold this into the chocolate mix. Take out 1 cup of batter and pour the remainder into dish. Use a spoon dipped in water to help spread it.
In a seperate bowl, beat together the cheesecake ingredients. Spread this on top of the brownie batter then spoon the remaining brownie batter over the filling. Use a knife to make swirls in the mix.
Bake for 35 minutes or until toothpick inserted into brownies comes out clean and filling is set.
Allow to cool before cutting.