As an Amazon Associate I earn from qualifying purchases.
This easy no-bake cookies are a delicious and quick dessert you can make any time with only 7 ingredients.
I have had the same containers of oats for A WHILE. I'm not sure what I originally bought them for. All I know for a fact is that they have been taking up space in my cabinets for several months, staring at me everything I open the doors to grab something else.
Today, I decided to finally put them to use and make some no bake cookies.
I love these cookies. My kids love them. The hubs loves them. My coworkers will love them when I bring them some tomorrow.
My favorite thing about these wonderful little chocolate delicacies is the fact that they have chocolate and peanut butter in them. Is there honestly a better combination?
My second favorite thing about these cookies is how easy they are to make. 7 ingredients and about an hour of your day from start to eat.
Here are a couple of things to know when making no bake cookies
You can use either old-fashioned oats or minute oats BUT…..
There is a difference between the two. Minute oats are rolled more thinly than old-fashioned (or rolled) oats. This means they cooks faster and result in chewier cookies. Rolled-old-fashioned oats are thicker and harder to use in no bake cookies because they don't have time to get chewy (because of the NO BAKE part)
You have to be careful with oats for this recipe. Minute oats can be immediately added to no bake cookies. Rolled/old-fashioned oats need to be pulsed in the food processor/blender for a few pulses before being added.
dont over or under boil your milk-butter-sugar mixture
One of the very first things you will do in the recipe is bring to a boil the milk, butter, sugar and cocoa. It is very important to bring these items to a boil slowly and ONLY boil them for the time specified.
Under boiling will result in cookies that are either too moist or that do not harden into cookiesb ut instead stay in a liquid of semi-liquid state.
Overboiling leads to dry cookies that crumble easily or require a larger than normal glass of milk to wash them down with.
Just be careful and follow the directions and you should be fine 🙂
Below is my easy, no nonsense recipe for some insanely good no bake cookies. Let me know if you try them or have any questions about them.
OR if you want to check put my other delicious dessert recipes, click here.
Yield: 24 cookies
No Bake Cookies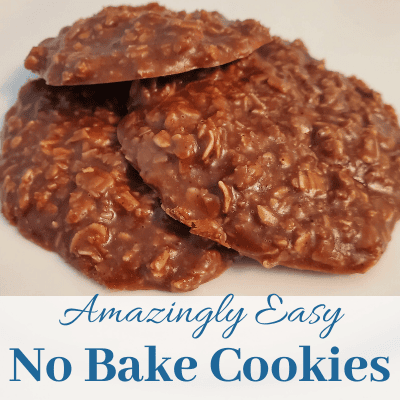 These easy no bake cookies are chocolatey and delicious, especially with a glass of milk.
Additional Time
20 minutes
Ingredients
3 Tbs unweet cocoa powder
2 C white sugar
1/2 C milk
1/2 C butter
3 C quick oats
1/2 C peanut butter
1 tsp vanilla extract
Instructions
Bring milk, cocoa, butter and sugar in medium pan over medium heat to a boil SLOWLY. Once boiling, boil for 60 seconds ONLY.
Remove pan from heat and add peanut butter, oats and vanilla.
Let cool for approximately 1 minute then spoon onto wax paper.
Allow cookies to cool then eat them.